New classes added!!!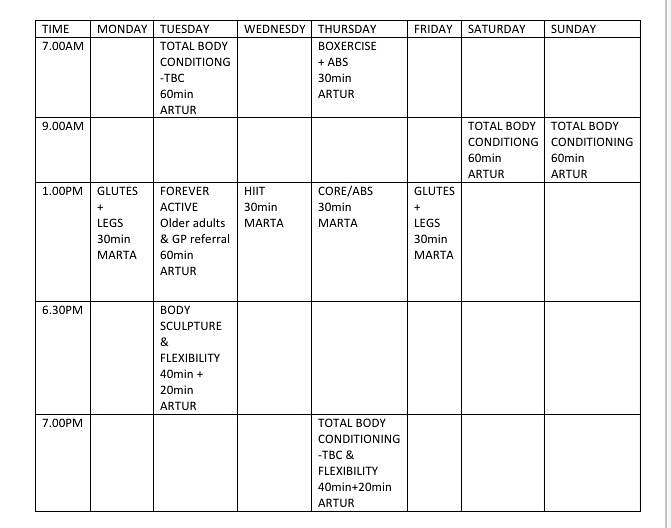 There were requests from our clients to create more classes and we are exited to announce that we are adding three more classes next week:
@Tueasday:
1pm- Forever Active,which is designed for Older Adults & GP referral clients
who wants to improve quality of life and keep active and healthy;
6.30pm- Body Sculpture and Flexibility,where we will be focusing on toning
specific muscles and stretching;
@Thursday:
1pm- express Core/Abs class,which will attack so important middle section of your body.
There are a small changes with renaming some of classes, which we think shows better a true nature of our approach. We decided that evening classes on Tuesday and Thursday will be split into 40min fitness high octane fitness action and 20min stretching.
If you think about getting more active to improve your physical and mental wellbeing,or you have nowhere to continue your fitness journey.
Please, try your first class for free. There are no commitments,we just hope that you will enjoy it.
Let's Reach4fitness be a starting point for you feeling better and change in your lifestyle.

Reach4fitness recognise a hard work and sacrifices of NHS workers and we would like to offer a free membership for NHS staff.
KEEP ACTIVE-KEEP HEALTHY
Artur & Marta

>>Â Click here for more information or to book personal training.
April 3, 2020 |
News
|
Comments Off

on New classes added!!!