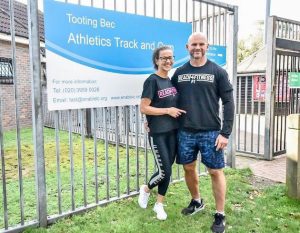 Most clients train at Tooting Beck Athletic Track and Gym (TBAT)  with us. It's a relaxing environment for training, surrounded by nature, with a great community atmosphere.
TBAT is located opposite Tooting Bec Common, on Tooting Bec Road (SW17 8AR). It is just 5 minutes walk from Tooting Bec Underground station.
There are many options for our clients at TBAT, depending on goals and preferences we can use: track, small-quiet GYM, fully equipped studio and outside space.
Reach4Fitness has a very wide selection of functional equipment: kettlebells , Bulgarian bags, power bags, slamming balls, battle ropes , tyres , resistance bands, pads and gloves; which we use with clients during outside workouts and at our Sunday Bootcamp.
We offer, as option, training at Balham Leisure Centre, which is much bigger, modern gym and has an extensive selection of newest cardiovascular and resistance equipment. There is a fully equipped free weights room as well. Balham LC is located on Elmfield Road (SW17 8AN), just 5 minutes walk from Balham Underground and National Rail stations.