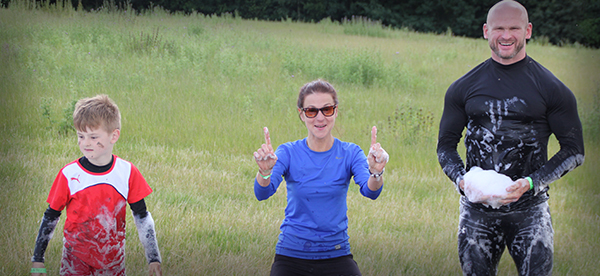 Testimonials
The best PT you can imagine. Working for you and with you, making sure exercises are done correctly and effectively. Plus fantastic atmosphere throughout the training.Marta is always happy to help. Would not recommend anyone else.
Eva
I don't often swear, but I swear Artur's methods work.
The sessions can be challenging, but the hardest thing is turning up. You'll receive lots of encouragement and support when you get there.
If you are looking to change your body shape, improve your health and increase your confidence and self-esteem, come along to Artur's Bootcamp sessions at Tooting Athletics Track.
The classes are friendly and of mixed ability. Whatever your level of fitness or ability, all are welcomed. You will receive individual help on aspects of your fitness that you would like to improve and how to do this through excise, diet and rest.
Not many people achieve legendary status in their life time, but Artur is well on his way to doing this with his knowledge and commitment shown improving people's health and fitness and as a result, their lives.
Victor Felix, Streatham
Before I started training with Artur, I had been a pretty regular gym-goer for several years, without really seeing the results that I wanted. Training with and learning from Artur I have been able to significantly improve my strength and to add muscle mass. We have used a variety of training principles and Artur's advice on diet, rest, and training splits, has been really helpful. Artur always motivates and pushes his clients to achieve things that they didn't believe they could, and that drive and passion has certainly helped me make progress way beyond what I would have achieved otherwise. I would definitely recommend Artur.
Tristan, Balham
I highly recommend Artur.  He is the best trainer I have had in London – the most experienced, knowledgeable and committed.  These unique strengths have meant that I have been able to stick to a challenging fitness routine with him for seven years as a working mother.  The flexibility and dedication he has offered me through thick and thin meant that I could stick with it.  He is an excellent personal trainer and a first-rate human being.  In my opinion, sessions with him are the best investment in better energy and health you could make and keep.
Severa, Balham
I am 58 years of age and I have been coming to artur's Bootcamp class for nearly two years,over this time the arthritis in my knee has significantly improved with Artur's help and advice.
What I love about Artur's class that you get the help so that exercises are performed correctly, the classes are challenging but fun.
Artur is excellent instructor , with his help I can run now 800m( at my own pace) and I can see and feel the difference that these classes have made.
Desree
I am now 19 and have been training with Artur since I was 13, at first it was just something fun that I did with my family. However, as I got older and my sport became more serious then my training with Artur became more serious as well. My training with Artur changed with my age and I began to take it more seriously. With Artur focusing on my athletic weak points when I train with him and tailor making my training to my main sport which is rugby. Training with Artur did certainly give me a head start with some of the other players. I still return to Artur even now and probably will do for a long time to become bigger, faster and stronger.
Harry,rugby player
Balancing the demands of my cricket season with a busy job is really difficult, but Artur helped me get in really good shape ahead of the season. I've got far more core strength than before, and my conditioning now makes it easy to bowl long spells. Artur's developed some great cross training and circuits programmes for me that have built my stamina and been sport-specific. He's really knowledgeable, always friendly and great fun to train with. He's a great trainer if you're looking to get in shape or if you're training towards a particular goal, and he's definitely made a real difference for me.
Mark, England Amateur Cricket captain
Artur's Bootcamp is brilliant, fun and effective. He uses different and creative equipment and ideas each week to keep the class alive and challenging. Having done exercise classes for over ten years, this class, and Artur's approach to fitness, has got me the best results. I love it!
Rebecca
Artur keeps me motivated. Making the gym experience enjoyable, but also sometimes only just bearable for someone who finds it all a bit of an effort, is a challenge. Artur succeeds for me.
As increasing age ( I am 70 years old ) takes its toll on my joints I am impressed by Artur's care to check that all new challenges are carefully judged.
There is no doubt that regular sessions with Artur have improved my physical health. He has pushed me, challenged me, and amused me but has also responded immediately to any of my unexpected limitations.
I see Artur on a regular basis. He keeps sessions varied and there seems to be no end to his capacity to add new challenges. My physical fitness has steadily improved over time and he keeps me motivated, despite periodic protests from me!
Bob,
I am currently one of Artur's clients through the Tooting Bec Athletics Gym and have been for the last three months. I am so glad that I signed up to his classes. I firstly started with just doing Bootcamp and found that he was such a good instructor that I also signed up to doing his Boxercise Class. One of the many things I like about the way Artur conducts his classes is the wide variety of exercises he puts in to each one which make you feel as if you have had a full body work-out. He always goes round after demonstrating each exercise and gives you helpful pointers if you need to adjust the way you're doing it in order to maximise the full benefit. He is very supportive and encouraging and always makes the classes enjoyable due to his fun personality and the fact that he creates an environment where all are welcome no matter what your ability or fitness level. He is an extremely good motivator and makes you want to work that little bit harder each week, but is also sensitive to how your body can cope with the additional physical demands.
I can honestly say that I have noticed a definite improvement in my all round stamina and fitness levels and an improvement in my body shape. I will definitely continue to go to as many of his classes whenever possible and would gladly encourage other people to do likewise as I know they will benefit from them as much as I have.
Thank you so much Artur!
Katrina Beckford