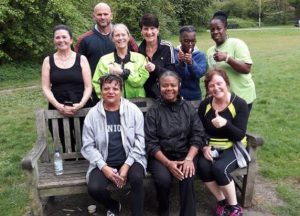 "Two and a half years ago I turned 60 and things weren't looking pretty. I was 112kg, eating too much and doing no exercise. I had various chronic joint and nerve problems and had all but given up. Although I have in the past enjoyed gym, there was no way I was going to be able to pull myself out of the pit I had slumbered into. Time to get some help.

Artur has been an incredible find. He is motivating, kind and very knowledgeable. He leads my wife and me through ups and downs always knowing exactly what our bodies need. Best thing we ever did, taking the personal trainer plunge. We look forward to our weekly sessions with Artur and will hopefully do so for many years to come.
Exercise referral is service specifically designed for clients who have medical conditions and have been referred by a healthcare professional to participate in physical activity to improve/or reverse a condition and improve their overall well-being and quality of life. We have been training clients with special conditions since 2013.
Reach4Fitness helps clients with a wide range of medical conditions:
Cardiovascular disease
Hypertension
Hypercholesterolemia
Diabetes type 1 and 2
Cancer
Musculoskeletal problems-osteoarthritis, rheumatoid arthritis, chronic back pain, post hip/knee replacement
Respiratory diseases-asthma, COPD (Chronic Obstructive Pulmonary Disease)
Mental health-anxiety, depression, bio-polar, schizophrenia, dissociative personality disorder.
We will design the most effective and safe programme suited to your medical condition and ability level.
We start with a free, no obligation consultation to assess how we can help you.