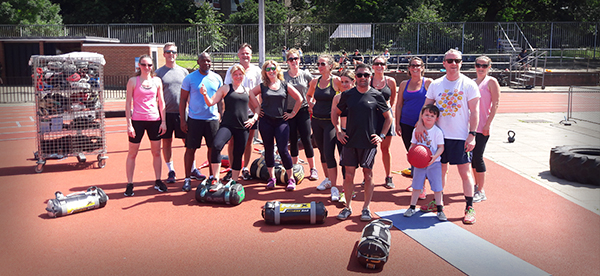 When it comes to working out, do you feel that the more, the merrier? Working out with others can boost motivation and make session more fun. Come individually or as a group and let us put you through your paces with our variety of exercises classes.
Covid Safe
Training outdoors, with safety distancing measures in place, and your designated equipment- guarantee you to keep risk of getting infected to minimum. Train safe-be safe.
We still run Forever Active class on Zoom, every Tuesday at 1pm older adults and clients with complex medical conditions can join Artur in comfort and safety of their own houses (contact us for more information).
What you get from an Outdoor Class
You can expect to burn between 400-700 kcal in every single group session, as you work your entire body with a combination of Boxercise or Bootcamp's functional exercises combined with HIIT.
What differentiates our classes from other outdoors activities in the SW area is that we use a wide variety of mobile equipment (TRX, kettlebells, slamming balls, Bulgarian and power bags, elastic resistance bands, weighted hammers, battle ropes, speed parachute, boxing gloves and pads) and the newest methods of training to meet your goals with maximum results and fun. Rather than sergeant-major screaming techniques to push you, we give you the kind of close attention of a personal training session that, along with other participants, motivates you to push your limits.
Please come and see for yourself, at Reach4Fitness we welcome all fitness levels, and can help you adjust exercises if you have any injuries or medical conditions. We have almost 20 years of experience in running fitness classes. Our sessions take place at Tooting Bec Athletics Track & Gym. We are Family Friendly, so you can bring your children with you.
Marta's LBT Class
Marta's LBT class is designed to target common problem areas (legs, bums & tummy), which gives you more confidence and make you work up a sweat…We help you to lose weight, transform your body and increase your strength and fitness level.
Where:
Tooting Bec Athletic Track and Gym
Tooting Bec Road
SW17 8AR
(View map)
Pricing:
£8 per person
£60 for block of 10 sessions
£50 Monthly unlimited use
You can just turn up at one of the classes listed below, or feel free to contact us if you'd like to discuss anything first.
When: