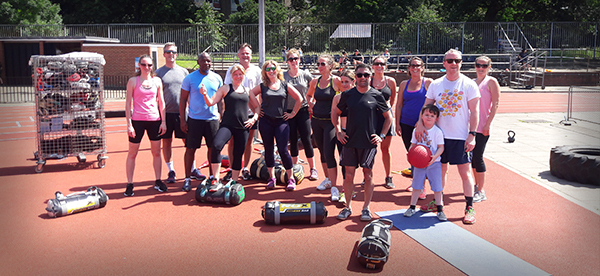 When it comes to working out, do you feel that the more, the merrier? Working out with others can boost motivation and make session more fun. Come individually or as a group and let me put you through your paces with bootcamp training, which originated from a military style training designed to build strength and fitness through a variety of intense exercises.
You can expect to burn between 700-1000 kcal in every single bootcamp session, as you work your entire body with a combination of Boxercise, functional exercises and high intensity interval aerobic training (HIIT). This allows you to lose weight, transform your body and increase your strength and fitness level.
What differentiates my classes from other bootcamps in the SW area is that I use a wide variety of mobile equipment (TRX, kettlebells, Dymamax balls, Bulgarian bags, elastic resistance bands and tubes, rope, speed parachute, boxing gloves and pads) and the newest methods of training to meet your goals with maximum results and fun. Rather than sergeant-major screaming techniques to push you, I give you the kind of close attention of a personal training session that, along with other participants, motivates you to push your limits.
Please come join us and see for yourself how much I have transformed the standard Bootcamp to be far more varied, interesting and fun by including new trends in fitness. Sessions take place in Tooting Bec Athletics Track & Gym.
Pricing
£8 per person
£60 for block of 10 session
For booking and more information, contact me on: artur@reach4fitness.com / 07756 885 097.